France's first peri-urban funicular railway
History
This funicular was decided in 1986 to replace the existing cable car between Bourg-St-Maurice and the residences of the resort of Les Arcs at an altitude of 1600 metres, at the foot of the slopes. The municipality wanted a new cable car solution to increase the capacity of this crucial link between the town and Les Arcs. The funicular was chosen because it guaranteed, among other things, unrivalled comfort, unrivalled reliability, low maintenance costs and almost permanent operation, in complete safety, even in winds of 120 km/hour. CFD was selected to design and build the two funicular trainsets and the bogies for the suspension, guidance and support of the safety braking systems. The project, first named FUNARC and then Arc-en-Ciel, is better known as the ARCS-Express funicular.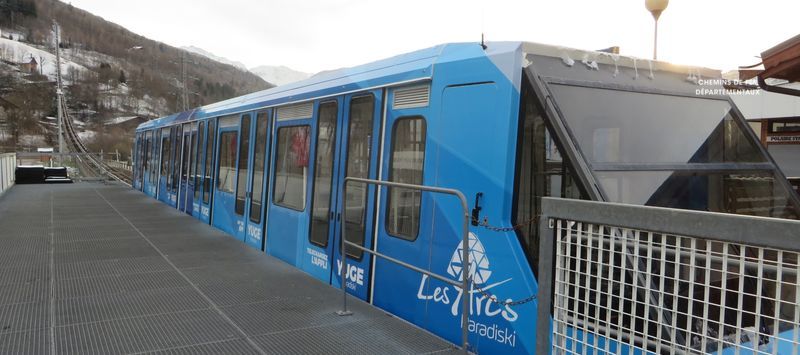 The funicular is 3000 metres long and is a single-track reversible funicular. In addition to the departure station at Bourg-Saint-Maurice, near the TGV station and the town centre, and the arrival station at Arc 1600, two other stations are located on the route to serve Montgrigon and Les Granges. The difference in height between the two end stations is 810 metres, with an average gradient of around 29%. The gradient and ramps are irregular along the line, but do not affect passenger comfort, as the floor of the trains is inclined accordingly.
Technical specifications
Each 26-metre long train consists of two cabins with a unit capacity of 138 passengers. The trainset, with an unladen weight of 24 tons, doubles its mass in maximum capacity. The 2.9 kilometre journey is swallowed up in 5 minutes thanks to its maximum speed of 12 m/s, allowing a capacity of up to 3000 passengers per hour and per direction of traffic.
276 passengers per train
Slope of 29% on average but in places exceeding 39%
Maximum capacity of 3000 passengers per hour and per direction
Approximately 650,000 passengers per year, summer and winter
Speed of 12 m/s
After 30 years of good and loyal service, the POMA company has been entrusted with the renovation of the funicular to adapt it to current requirements and standards. New panoramic trains were built and to guarantee optimal operation, the bogies were ordered, again from CFD. The new trains were put into service at the end of 2019.