Underground funicular linking the Tignes station to the Grande Motte glacier.
History
This funicular was decided in 1986, in anticipation of the 1992 Albertville Winter Olympic Games, to replace the gondola lifts between the Val Claret district in Tignes and the foot of the Grande Motte glacier, which is over 900 m higher at 3000 m and has direct access to the ski areas. The municipality wanted a solution that would best integrate into the environment. The choice fell on an underground funicular as it guaranteed skiers unequalled comfort and almost permanent operation even in stormy weather. The VON ROLL company was in charge of the project and CFD was selected to design and build the two funicular trains and the bogies providing suspension, guidance and support for the safety braking systems.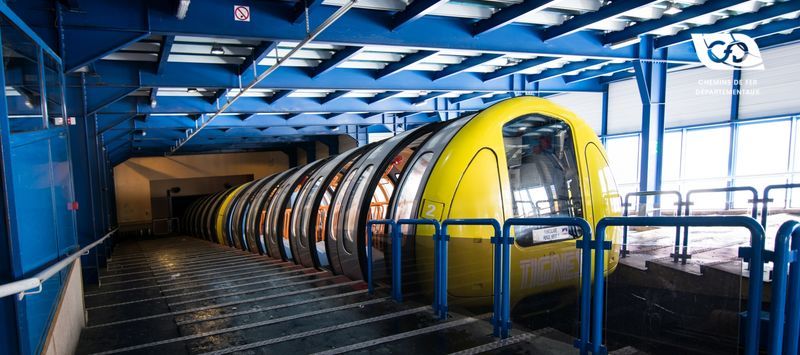 This 3500-metre long funicular is a single-track reversible funicular. The difference in height between the two end stations is 920 metres, with an average gradient of around 26% and a peak at 30%. The presence of the glacier at the arrival station allows summer skiing.
Technical specifications
Each train consists of two vehicles with a unit capacity of 334 passengers. The trainset, with an unladen weight of 32 tonnes, can accept a maximum load of 26 tonnes. The 3.5 kilometre journey is swallowed up in 7 minutes thanks to its 12 m/s maximum speed. The funicular is designed for a capacity of up to 3600 passengers per hour and per direction of travel.
334 passengers per train
Slope of 26% on average but exceeding 30% in places
Maximum capacity of 3600 passengers per hour and per direction
Speed of 12 m/s
The special design of the trains on this lift is due to the fact that the course is buried. The trains therefore run in circular tunnels and cross each other at the halfway point through a dedicated tunnel section. This design required the study and realization of a particular body structure, requiring the use of very specific materials with the use of plastic elements fixed on the metal structure of the train