The PR23 railway gearbox is dedicated to heavy to very heavy machines (locomotives, maintenance-of-way vehciles) thanks to its maximum permissible wheel span of 235 mm. It is available with two reduction stages (main mounting) or a single stage (secondary mounting).
Presentation
The CFD PR23 railway gearbox is designed for a maximum diameter of the wheel bore up to 235mm, allowing up to 25t axle load. As on the PR18 axle, the bevel gear is installed on the axle. This assembly allows the possibility of creating a single-stage secondary axle, which is necessary depending on the type of bogie used. The primary stage consists of a parallel-shaft reduction stage located on the input shaft. CFD calculates its axles for intensive use, so the gear modules used guarantee an unrivalled service life and reliability.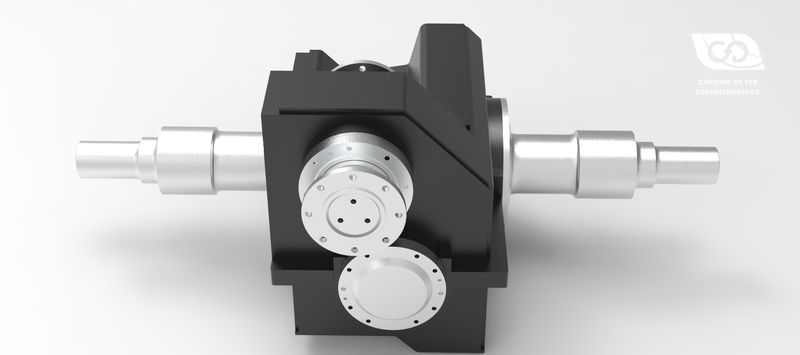 The PR23 railway gearbox is available with 14 different ratios. All ratios allow to reach at least 100 km/h with new 1050 mm wheels and worn 970 mm wheels and up to 120 km/h at maximum speed. The internal lubrication system ensures optimum operation of the bearings and gears.
Application
Heavy locomotives
Maintenance-of-way vehciles.
Up to 25t axle load
Reduction ratio from 3.04 to 5.81. (bevel gear ratio of 3.117)
Single or double reduction stage
Very high maximum torque
Inlet flange DIN 225 or 285
General information

| | |
| --- | --- |
| Lower gear | Klingerberg bevel gear |
| Top gear | Parallel helical gear |
| Maximum diameter of the wheel bore | 235 mm |
| Input rotation speed | 3200 rpm |
| Output torque | 70,000 N.m peak |
General information
EQUIPMENT
SPEED SENSORS

option

GREASE

internal pump
The list of equipment is not exhaustive. Other information is available on request