The two range gearbox for SRPM transmission is a 100% CFD development based on our history as a gearbox manufacturer/designer.
Presentation
The technology of permanent magnet traction motors has developed strongly in recent years with the arrival on the market of industrial solutions for severe applications from many manufacturers. These new traction motors offer power performance equivalent to traditional solutions but in a very small footprint. These solutions are therefore very efficient in terms of power density but are limited in terms of torque by the associated power conversion systems. To overcome this, CFD has developed a gearbox that can accommodate 1 to 4 traction motors and has a slow range for pulling high loads and a fast range for high-footed travel or with a lower load up to 100 km/h.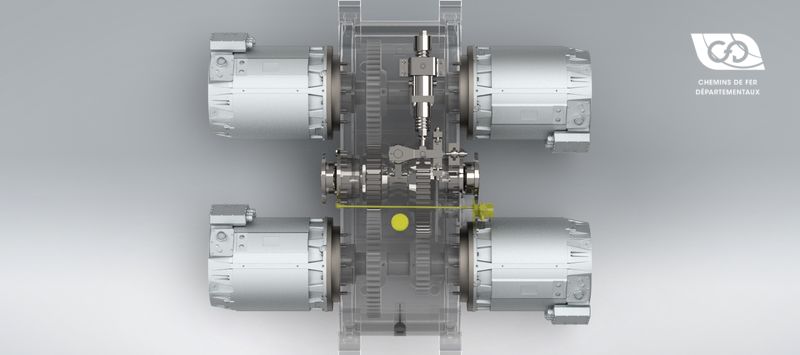 The gearbox is available with a multitude of different ratios in both ranges. Depending on the number of SRPM motors installed, the ratios are adapted to cover all our customers' needs. The internal lubrication system guarantees optimum operation of the bearings and gears. A neutral position allows the load to be towed without driving the traction motors (necessary due to the presence of permanent magnets generating a high voltage at the terminals of the converters when towing)
Application
Heavy locomotives
Working machines.
Up to 4 SRPM motors
Two ranges, reduction from 2.33 to 0.66
Neutral position for towing
General information

| | |
| --- | --- |
| Type of gearing | Parallel helical gearing |
| maximum input speed | 3200 rpm |
| Maximum output torque | 40,000 N.m peak, 20,000 N.m continuous |
General data
EQUIPMENT
SPEED SENSORS

option

LUBRICATION

internal pump
The list of equipment is not exhaustive. Other information is available on request