CFD articulated railcars are machines designed to reconcile transport capacity with maintenance and operating costs.The use of bogies between the carbodies improves the dynamic behaviour of the trainset and reduces the number of components in contact with the track. The use of a high-efficiency diesel-electric traction powertrain also makes it possible to offer very economical solutions for the operation of small lines or secondary lines.
Configurations
Available in 3, 5 or 7 body versions, the CFD series of articulated railcars with CFD bogies adapts to your capacity and performance requirements to the needs of our customers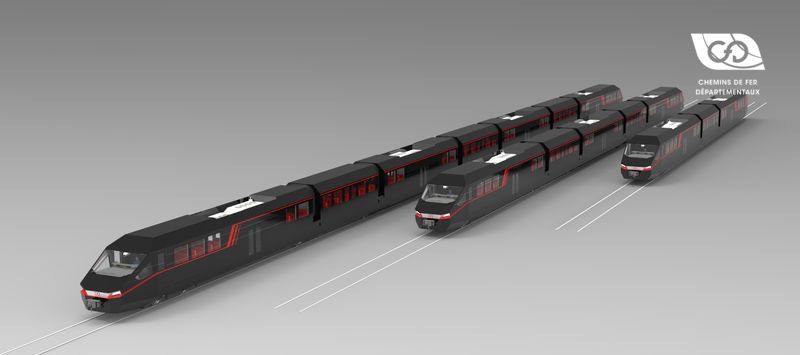 Arrangement
The range of CFD articulated bogie railcars is based on three different types of carbodies, flat-floor end carbodies including a driver's cab and traction system and with a capacity of 44 seats, intermediate carbodies maximising space for passengers with 40 seats in a reduced footprint and finally central flat-floor carbodies with access doors compatible with the platform height of 550mm above the rail and a capacity of 36 seats. These last bodies increase the traction capabability of the train thanks to the integrated diesel unit which is added to the diesel units of the end cars.
Modularity
The interior of each vehicle can be fitted out according to the customer's specific requirements. It is thus possible to give preference to seating or areas for the transport of bicycles either at the time of purchase or by choosing the CFD modular system, which allows the customer to switch from one configuration to another within a few hours.
Trains made up of these bodies have an exceptional passenger capacity and high stability at high speeds. Articulated railcars with a smaller number of rolling elements are less scalable than solutions with independent vehicles, making it possible to rationalise purchasing and maintenance costs and offer optimum comfort for long, high-speed journeys
Traction chain
The articulated bogie railcars are available with a diesel electric drive train or, on request, with a pantograph for catenary collection 750V DC/1500 V DC/ 25 kV 50Hz. The motorisation can be distributed throughout the train to increase traction power and acceleration performance and also offer redundancy of traction components.
Acceleration up to 1.5 m/s²
16 t per axle
Unit diesel power from 150 to 400 kW (or more)
Metric, normal or wide gauge
Maximum speed of 100 km/h (120 km/h or more possible)
Performance
Technologies
Permanent magnets
(SRPM)
Asynchronous
(AC)
Traction motors
Variable reluctance motors assisted by permanent magnets
CFD asynchronous motors
CFD
Power of traction motors
80 to 160 kW
unit
100 to 200 kW
unit
Diesel engines
CAT or VOLVO
Possible solutions with
CUMMINS, LIEBHERR, DEUTZ, MTU, PERKINS or other engines
Possible track gauge in mm
1000/1067/1435/1520/1668
Performance chart
Driver's cab
The CFD railcar driver's cab is wide and spacious. It has a central driver's cab and a large windscreen to ensure excellent visibility for the driver. The front part of the cab incorporates shock absorbers to dissipate the energy of a possible impact with another rail or road machine at a level crossing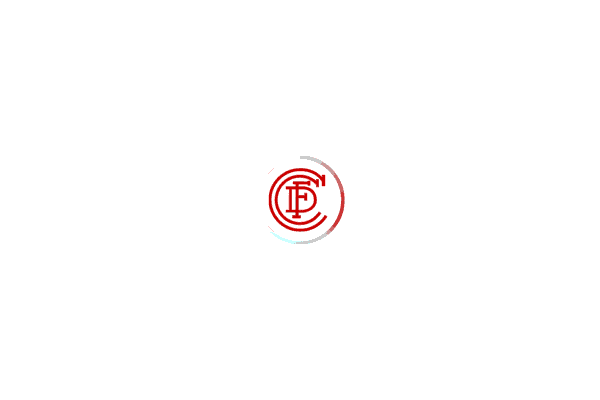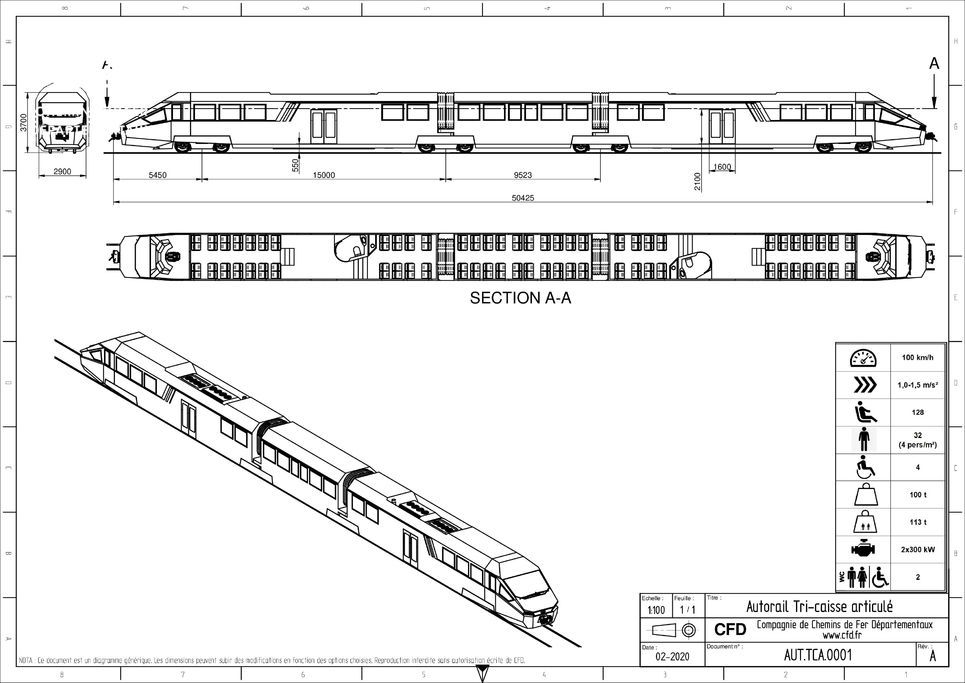 EQUIPMENT
RANGE (DIESEL)

500 or 1000 kms

CAPACITY

from 160 to 350 passengers according to versions

BRAKING SYSTEMS

UIC Pneumatic UIC (+ Rheostatic in option)

TRACTION / BRAKING CONTROL

Anti-skidding and wheel sliding protection as standard equipment
The list of equipment is not exhaustive. Other information is available on request