CFD's innovative bogie, born from the development of the TRIAX locomotive, the bogie of the same name and its specific axle arrangement is declined to equip all special machines and heavy locomotives.
Design
The structure of the bogie is built around a welded H-frame integrating the central axle. The two other axles are incorporated in articulated bissels which are connected to the main structure. In bogie use, the bogie frame is equipped with a spherical toe cap and side skirts. The bogie can be delivered in a carrier version or in a motorised version with 1 to 3 CFD traction motors. Each axle has its own brake blocks and coil spring suspensions.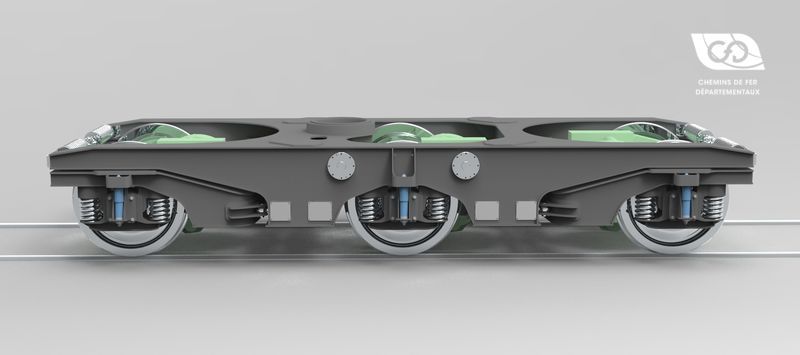 The axle articulation system designed by CFD allows the vehicle to pass through very tight curves without damaging the track and to reach high speeds (90 km/h or more) while maintaining good stability in straight lines or curves. The configuration of the TRIAX is such that the axles have a minimum angle with the rail in curves, limiting friction at the wheel flange:The central axle is fixed in relation to the chassis. The centre axle is fixed in relation to the chassis. Each end axle is attached to a bissel which can pivot in relation to the chassis. The movement of the bissel in relation to the bogie frame can be controlled by the vehicle or can be passively actuated, the aim being to make the rear axle of the bogie pivot in the opposite direction to the front axle when passing through a curve. Mechanical elements and shock absorbers are used to ensure that the system operates correctly
Application
Heavy locomotives
Special cars
Works trucks
Other rolling stock.
Innovative
Excellent dynamic behaviour
Track-minded
Perfect for heavy machinery
General data
Rail gauges in mm
1435
Bogie mass
from 7 to 12t depending on equipment
Axle load max
22 t
Type of transmission
Electric
Maximum speed
90 km/h (100 km/h being validated)
General information
EQUIPMENT
SPEED SENSORS

standard (option SIL 2)

COIL LUBRICATOR

optional

BRAKING SYSTEM

Brake blocks as standard, 2 per axle, with or without parking brake
The list of equipment is not exhaustive. Other information is available on request