One axle, two wheels and two suspension stages, that's what our single-axle bogie offers. This assembly makes it possible to reconcile comfort and lightness, essential to obtain a light, efficient and economical railcar. The bogie axle can be driven or carrier and is suitable for diesel-hydraulic or electric/diesel-electric traction systems.
Design
The bogie is equipped with axle boxes having a suspension stage with coil springs and hydraulic shock absorbers which are connected to an intermediate frame acting as bogie frame. At one end of this structure, a link made up of elastic articulated arms and connecting rods ensures angular clearance between the bogie and the vehicle body as well as transverse movements. A pneumatic secondary suspension stage located beyond the axle absorbs these angular and lateral movements to dampen the movements between the body and the bogie that are detrimental to passenger comfort. Dampers are installed at the level of the secondary air suspension to limit vertical movements. The linkage by arms and connecting rods on its side guarantees a positioning of the axle perpendicular to the track.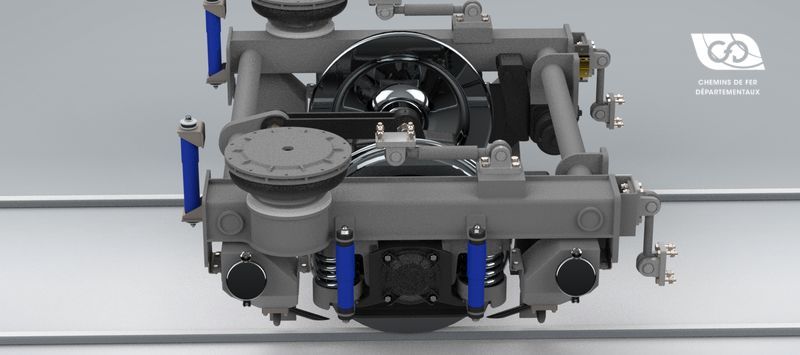 Dynamic behaviour
The primary suspension consisting of coil springs and hydraulic shock absorbers improves dynamic behaviour and reduces maintenance costs. The secondary stage with its integrated shock absorber system absorbs vertical movements, ensuring great comfort for passengers by limiting parasitic movements between the body and the bogie, which are often uncomfortable on degraded tracks.
The braking system is installed on the bogie and provides braking force on the tread in the case of tread brake unit or brake discs calipers (optional). Depending on the chosen application, the bogie can be equipped with a drive axle or a direct mounting of an electric traction motor and its gearbox.
Application
Light railcars.
Light
Excellent dynamic behaviour
Economic
General information

| | |
| --- | --- |
| Track gauge in mm | 1000/1067/1435/1520/1668 |
| Bogie mass | from 3 to 4 t depending on equipment t |
| Max axle load | 15 t |
| Type of transmission | Mechanical or electrical |
| Maximum speed | 100 km/h |
General information
EQUIPMENT
SPEED SENSORS

standard (option SIL 2)

REDUCED BRIDGE

axial or transverse, single or double stage

COIL LUBRICATOR

optional

SABLIERES

optional
The list of equipment is not exhaustive. Other information is available on request