Historic manufacturer of passenger vehicles, CFD has a wide range of bogies for railcars or multiple-unit. The latest addition to the range is a double-stage suspension bogie for passengers transport up to 120 km/h.
Design
It consists of an H-shaped bogie frame structure placed on the axles. The primary suspension stage consists of coil springs and one hydraulic shock absorber per axle box. The secondary stage consists of air suspension and vertical and lateral shock absorbers. Traction rods provide the link between the bogie frame and the body and the shock absorbers limit pitch, yaw and roll movements. The air pressure in the secondary suspension flanges is controlled to correct the body height according to the load.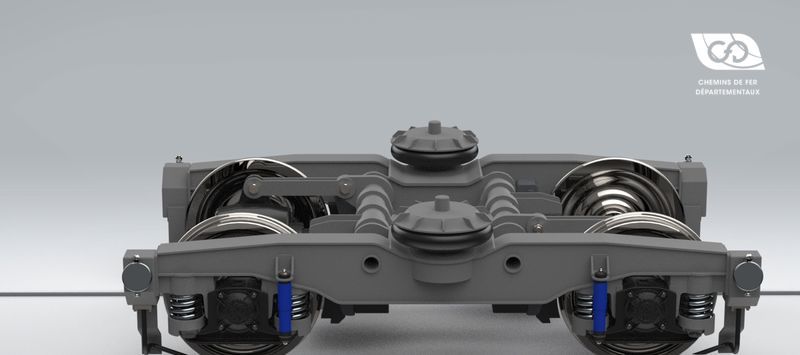 Its 2.4m wheelbase and the structure of its chassis allow it to be equipped with CFD DC traction motors or conventional traction solutions using axles and cardan shafts connected to permanent magnet motors or a gearbox. The connection between two driving axles is made by cardan shafts. Each wheel is equipped with a tread brake unit for service braking and immobilisation functions. Disc brakes or electromagnetic brakes are also possible.
Application
Passengers railcars
Diesel multiple-unit
Electric multiple-unit
Maintenance-of-way vehicles.
In line with the new European standards
Excellent dynamic behaviour
Economic
Dimensioned for 120 km/h (possibility of a high-speed version at 160 km/h)
General information

| | |
| --- | --- |
| Track gauge in mm | 1000/(1067)/1435 |
| Bogie mass | from 5 to 8t depending on equipment |
| Axle load max. | 16 t |
| Type of transmission | Mechanical or electrical |
| Maximum speed | 120 km/h (160 km/h on request) |
General information
EQUIPMENT
SPEED SENSORS

standard (option SIL 2)

REDUCED BRIDGE

axial or transverse, single or double stage

COIL LUBRICATOR

optional

BRAKING SYSTEM

Standard shoe brake blocks, optional disc brake and electromagnetic brake pads

SABLIERES

optional
The list of equipment is not exhaustive. Other information is available on request