We have retained a Pennsylvania model in our new bogie range because it has proven itself for decades in heavy and intensive use. The extremely robust design of these bogies allows them to pass through the degraded tracks that are sometimes encountered, especially in industrial sidings
Design
CFD's Pennsylvania bogie has all the modern evolutions with cartridge axleboxes, guided by manganese steel slides inside the chassis. The bogie also has tread brake units for service and parking braking, which can be equipped with anti-locking solenoid valves and dedicated sensors. Its 2.5m wheelbase and the structure of its frame allow it to be equipped with electric motors or conventional traction solutions using axles and cardan shafts connected to permanent magnet motors or a gearbox A wheel flange lubrication system can be added to limit wheel wear in curves.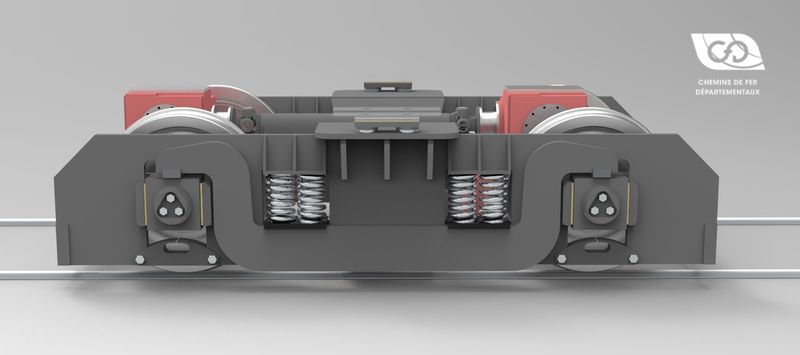 Damping on the axle box
The Pensylvania bogie is characterized by a large mass in direct connection with the rail, in particular the balancers resting on top of the axle boxes. CFD has a new option on the Pennsylvania range in the form of shock absorbing elements at the connection between the axle box and the longitudinal beams to reduce the forces exerted by the unsprung elements. These are 100% metal cushions that do not creep over time and provide excellent filtration of shocks and low frequencies. Its installation requires a special design of the pendulums and axle box.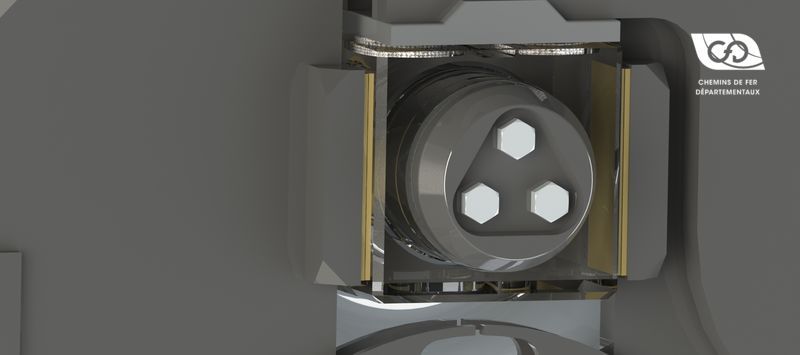 The bogie frame has an H-shape without cross braces and rests on a single suspension stage with coil springs, which are themselves mounted on longitudinal balancers. The bogie body connection is ensured by a toe-cap and smoothing rails. The support is located at the bottom of the bogie to prevent the bogies from pitching up during take-off of heavy loads. The connection between the drive axle gearboxes is then made by a cardan shaft passing over the support plate in the vehicle chassis.
Application
Locomotives
Special vehicles
Maintenance-of-way vehicles.
Robust
Very good behaviour on degraded tracks
Simple design
High axle load
High traction capacity
General information

| | |
| --- | --- |
| Track gauge in mm | 1435 |
| Bogie mass | from 6 to 10t depending on equipment |
| Axle load max | 22 t |
| Type of transmission | Electrical or mechanical |
| Maximum speed | 100 km/h |
General information
EQUIPMENT
SPEED SENSORS

standard (option SIL 2)

COIL LUBRICATOR

optional

BRAKE BLOCKS

standard, 2 per axle, with or without parking brake
The list of equipment is not exhaustive. Other information is available on request