A natural evolution of the diesel electric line, BB and TRIAX locomotives are available in hybrid (diesel or catenary/third rail) or fully battery powered versions.
Introduction
We develop solutions to offer all kinds of energy sources (diesel or gas generator, third rail or catenary, fuel cell), all types of energy storage (supercapacitors or Lithium-ion battery) and all types of traction chains (AC, DC or SRPM). Based on the EN 62864-1 standard architecture, this modular design around a common DC bus allows us to adapt to the demands of our customers and the specificities of their applications.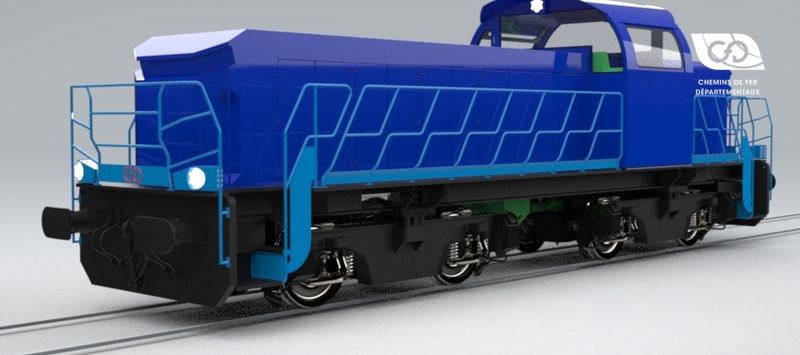 As with our classic diesel electric models, there are many options. For example, it is possible to define the type of bogie, axle load, choose the size of the cab, type of electric drive train, air production and the amount of energy embedded.
Energy storage
As each application is different, we adapt the amount of on-board energy and the type of electrochemistry of the cells to suit our customers' operational constraints. We have NMC or LTO solutions from different battery manufacturers and can offer packages fully customized to the application and operating conditions. All our solutions are safe and guarantee a high level of safety, both for the risk of fire and the protection of maintenance personnel against electric shocks. Together with the customer, we define the best charging strategy to prioritise the durability of the battery and optimise the availability of the machine in work.
Battery charging
Battery charging is the critical point of a hybrid vehicle. When using an on-board generator, charging can be guaranteed anywhere, regardless of the availability of an external energy source. Of course, this solution is not the best environmentally (polluting emissions and noisances), nor the most economical (cost and maintenance of engine exhaust after-treatment systems and fuel costs). If the vehicle is captive, it is advisable to favour recharging in a dedicated area by catenary, third rail or high power socket. It is this same logic that guides us to propose solutions if possible without a diesel engine, or at least, with a small diesel engine, with most of the power coming from the battery.
Up to 30.6 t (300 kN) tractive effort at take-off
From 17 to 22 t per axle
Available in metric or standard gauge
Power to rail from 300 to 1500 kW
Different battery solutions
Loading gauge EN15273-2
Maximum speed of 30 km/h in shunting application
High speed of 100 km/h or more for line application
Performances
Technologies
Direct current
(BB HY D33)
Asynchronous
(BB HY AC)
Permanent magnets
(BB HY PM)
Traction motors
CFD 2D33 motors
Asynchronous motors
Permanent Magnet assisted Switched Reluctance motors
Traction motor power
4 x 145 kW
2 or 4 x 513 kW
4 x 160 to 320 kW
Starting effort
30.6 t (300 kN)
30.6 t (300 kN)
30.6 t (300 kN)
Performance table
Safety
A lithium energy storage system consists of a set of cells assembled in series and in parallel and an associated electronic control system (BMS). We favour solutions with a high level of safety both in the mechanical design of the battery packs and in the electronic part. The cells are placed either in modules or in hermetically sealed strings with liquid cooling. On the electronics side, we can offer BMS solutions meeting the ASIL-B or ASIL-C levels of ISO 26262 (SIL-2 equivalent of IEC 61508).
Tunnel applications
To enable use in closed environments, we work with battery solutions that limit, by design, the risk of fire in the event of a cell thermal runaway. We can propose solutions that guarantee that the fire will not spread to neighbouring cells, thus limiting the gas release to a few litres that can be easily channelled into an area without personnel. If the constraint is the risk of impact or crushing, we propose solutions with a very high level of mechanical protection.
Lifetime
The lifetime of a battery pack depends on the electrochemistry of the cells and the number of discharge cycles. In applications with one charge per day after 80% of depth of discharge, we can maintain an available energy level of about 80% of the initial energy after about 8 years with NMC technology and more than 12 years with LTO. These times vary depending on the depth of discharge for each cycle, the cells temperature and the charge and discharge currents. It is therefore necessary to define the vehicle's operating cycle to calibrate the amount of energy embedded and the charging strategy. To guarantee an optimal temperature, our batteries are equipped with thermal management systems with dedicated chiller. The electronic system (BMS) is used to indicate the cells charge level, cells temperature and battery health and to adapt the charging strategy if necessary. Our modular design allows strings to be added after commissioning by fitting into a dedicated space reserved.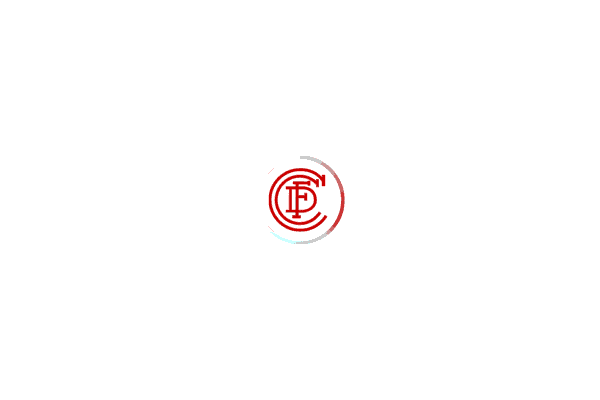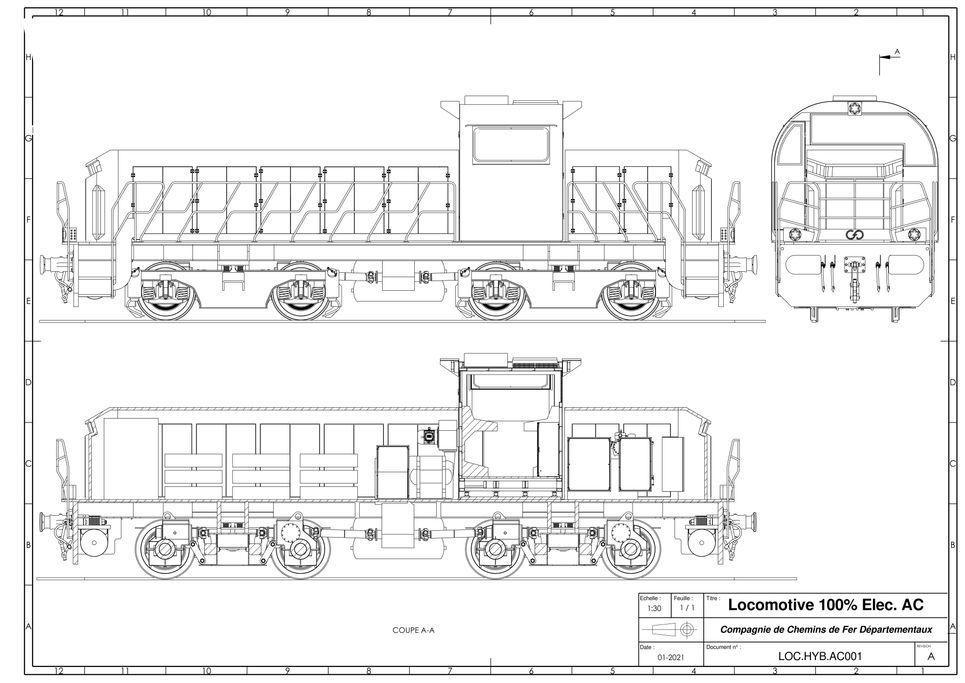 EQUIPEMENTS
Compressed Air Production

1800 L/min or 3600 L/min @ 10 bar

BRAKING SYSTEMS

UIC pneumatic + Brake Energy Recovery (+ Rheostatic as an option)

OPTIONS

GPS
Remote control
Anti-clutch
Anti-skidding
Signalling equipment
Automatic hitch
Crash pads
Third rail pad
Pantograph
The list of equipment is not exhaustive. Further information is available on request. Use the configurator to find your machine from our range of new and used locomotives.