The BB DE locomotives are multi-purpose locomotives, for line or yard traction in all gauges.Equipped with Diesel Electric transmissions, the BB DE locomotives with their two bogies whose axles are mechanically connected, combine efficiency and simplicity.
Presentation
Locomotive BB is part of CFD's DNA. The range of diesel electric locomotives extends from 680 to 2000 HP (500 to 1500 kW), in direct current traction or with a permanent magnet traction system, single speed or two speed ranges. There is bound to be the right locomotive for you.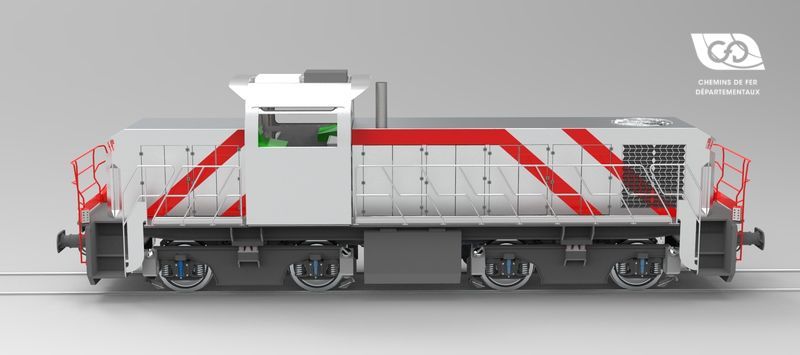 The new generation BB locomotive, like all CFD rolling stock, is modular. From its frame base, the vehicle is adapted to the needs of the end user. It is thus possible to define the type of bogie, the axle load, to choose the size of the cab, the type of electric power train, the air production and of course the power of the diesel engine.
Diesel engine
The BB DE locomotive can be equipped with a CATERPILLAR or VOLVO diesel engine, for example, but solutions with other engine manufacturers are possible, with diesel or gas engines. The engines offered meet current environmental standards. For applications without environmental constraints, the engines are optimised for low fuel consumption. A Start and Stop system enables the engine to be stopped during long periods of idling and restarted automatically according to the pressure in the compressed air tanks. This system limits fuel consumption and extends the maintenance intervals. For greater power, twin-engine solutions can be used to ensure redundant power generation and reduce maintenance costs by using only one engine most of the time.
Traction system
This locomotive is already available with two different traction systems to meet all our customers' requirements.The two powerful traction systems are integrated into the same interfaces on the locomotive frame, reducing design costs and production times.All that remains to be done is to choose the type of transmission when ordering: the choice is between the robustness and simplicity of the DC transmission with the CFD D33 dual motor or the efficiency and control flexibility of the permanent magnet solution. CFD is attuned to new technologies and can offer you hybrid solutions (with or without current collection on catenary on electrified tracks) or 100% batteries, always in line with your needs.
Up to 30.6 t (300 kN) of starting tractive effort
From 18 to 22 t per axle
Available in metric or standard track gauge
Diesel engine power from 680 to 2000 HP / 500 to 1500kW
Clearance EN 15273-2
Maximum speed of 30 km/h in shunting for shunting application
High speed of 100 km/h or more for a line application
Performance
Technologies
Continuous current
(B DE D33)
Permanent magnets
(B DE PM)
Traction motors
CFD D33 traction motors
Variable reluctance traction motors assisted by permanent magnets
Power of traction motors
4 x 145 kW
4 x 160 to 320 kW
Diesel engines
CAT or VOLVO
Possible solutions in particular with
CUMMINS, LIEBHERR, DEUTZ, MTU, JOHN DEERE, SCANIA or other engines.
Starting tractive effort
30.6 t (300 kN)
Performance chart
DC Traction
The DC drive train is based on two robust D33 double DC motors designed by CFD and located between the bogies. This solution, which has been widely tested in rail transport, is extremely simple and allows exceptional tractive effort. The simplicity of the components, their robustness and ease of maintenance make this solution ideal for operations in harsh environments or isolated areas.
SRPM Traction
The SRPM drive train, equipped with permanent magnet motors and generators, is built around a DC bus. This solution is characterized by the use of power electronics components of remarkable compactness thanks to liquid cooling.
The exceptional performance of these components and the absence of heavy maintenance significantly reduces operating costs.
Driver's cab
The driver's cab has been developed to be mounted on either TRIAX or BB locomotives with a design that offers excellent visibility from the driver's cab. It is equipped with diesel air conditioning and heating to warm up the diesel engine before starting it in cold weather. The side windows are based on an innovative concept allowing them to slide into the cab roof. The unobstructed opening allows the operator to have a wide view outside the cab and around the machine. A classic solution with sliding half windows is also available.
EQUIPMENT
FUEL CELL

1000 or 1500L

COMPRESSED AIR GENERATION

1800 L/min or 3600 L/min @ 10 bar

BRAKE SYSTEMS

UIC Pneumatic UIC (+ Rheostatic in option)

OPTIONS

GPS
Remote control
Anti-skid
Wheel slide protection
Cabin heater
Signal equipment
Automatic coupler
Crash buffers
The list of equipment is not exhaustive. Other information is available on request. Use the configurator to find your machine from our range of new and used locomotives.